Did you sign a document and are now looking for a copy for your records? Here is how you can locate your previous signature requests and save them for your files.
If you would like to view your completed (signed) documents, you first need to make sure that you are trying to access them using the same email address that received and signed them.
You would have been emailed a copy of the completed document, or received a link to view it on HelloSign – please try searching your inbox and junk/spam folders for a message from noreply@mail.hellosign.com. 

Alternatively, you can log in to www.HelloSign.com and download the signature request from your account. Please make sure that you're entering the same email address that you used to sign the document. You can see the email address on the upper right-hand corner of your page.

Here is how to save or print a document on HelloSign:
Once signed in to your account, go to the Documents tab on the left-hand side navigation.
Click the arrow next to the document's title to expand the document options.
Select "Download". This will save the document to your hard drive.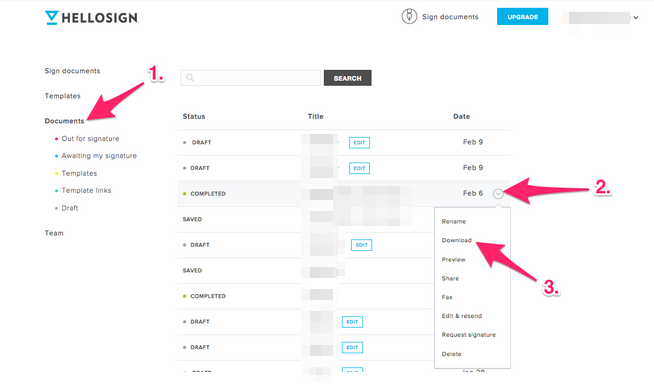 When the document has been downloaded to your computer, you can open it with your PDF viewer, and print directly from there.

If you aren't able to locate the document that you're looking for, it's possible that you received and signed it using a different email address. Please double-check where the signature request was sent, or contact  support@hellosign.com with the sending party's email address so that we can try to track it down for you.

If you don't recall setting a password for your HelloSign account, you can request a password reset link by visiting this page and entering your email address.