Here's how you cancel your paid subscription:
(If you already have a free account, scroll down to "How Do I Delete My Account?" below)
Hover your cursor over your email address on the top right corner.
Click "Settings" from the drop down menu.
Click "Billing" at the top right. 
"Subscription" will be in the middle row of options, click the "Cancel subscription" link to start the cancellation process. We will ask you a couple questions to confirm the cancellation.
You will receive an email from HelloFax that your account has successfully been canceled. Once you cancel, you will still have access to the premium features through the end of your paid billing cycle, but it will not auto renew at the end of the cycle.
Important: Once you unsubscribe/cancel your subscription, you will lose your current phone number and your monthly page allotment (including any unused pages) at the end of your current billing period. 
How Do I Delete My Account?
If you have an active subscription, you'll first be asked to cancel it (shown above). Then, do the following:
Hover your cursor over your email address on the top right corner, then click "Settings."
Click the "Profile" tab at the top.

Click "Delete my account" at the bottom of the page.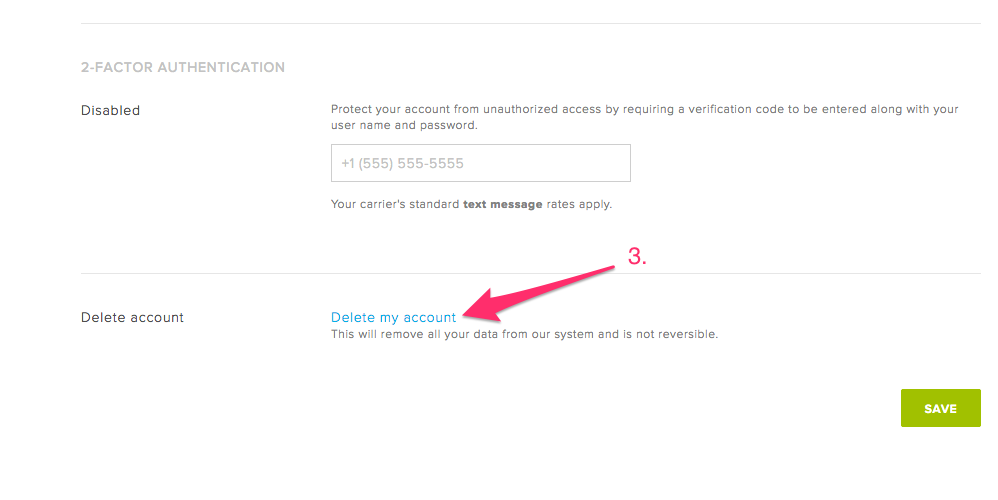 Next you'll be asked to confirm that you understand all documents and information will not be retrievable after you delete your account.
Once you confirm, you'll no longer be able to access your account with your login. The documents will no longer exists in your account and our vendors will not hold on to transmission histories for API transmissions, they will hold on to them for 30 days for non-API transmissions. If documents have been saved within email or a file sharing service such as Google Drive or Dropbox they will still be accessible from those locations only.