If you're a paid HelloSign Business (or above) sender, you can indicate which type (or types) of signatures you will accept from your signers. The types of signatures HelloSign supports are:
1. Drawn signature (drawn in with computer mouse)
2. Typed signature
3. Uploaded image of signature
4. Smartphone image signature
You can choose to accept all four types of signatures from your signers, or choose to only accept a specific type of signature. It's totally up to you.*
How do I indicate the signature types I accept?
1. Find and hover over your email address in the top right corner of the HelloSign screen.
2. Click on Settings in the menu that pops up.
3. Click on Business Features at the top.
4. Scroll down to "Accepted signature types" under the Preferences heading.
5. Tick the signature type boxes that you'd like to accept.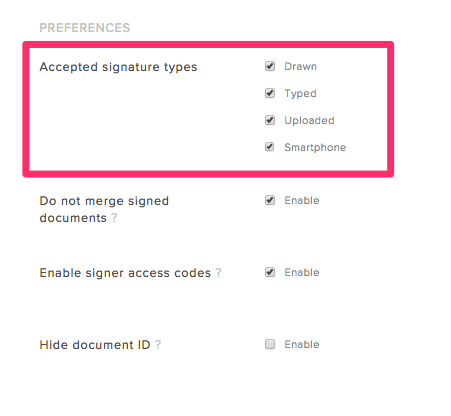 6. Scroll down to the bottom of the page and click "save" to save any changes.
Please note: This feature is only available to Business or above senders. Essentials users don't have this feature.
What will this look like on the signer's end?
When your recipient signs the document you've sent, he or she will only be shown the signature options you've selected on your Settings page.
*Your settings will not apply if an existing HelloSign customer already has saved signatures in their account. In this case, they will be able to use any previously saved signatures, even if they are of a type which you do not select in your settings.