HelloSign admins may enable an access code protected signature request. This means you set a 4-12 digit pin code to forward to the signer by your own means. When the signer receives the signature request to their email, they will have to enter the access code first in order to sign the document.
To set the access code:
Click on your email address in the upper right corner
Select the 'Settings' option
Scroll down to Preferences and check off 'Enable signer access codes.'
Then, when you create a signature request, you'll notice a lock image in the Add Signers step. Click the lock:

Next, a screen will pop up prompting you to create a password for your signer to enter in order to sign the document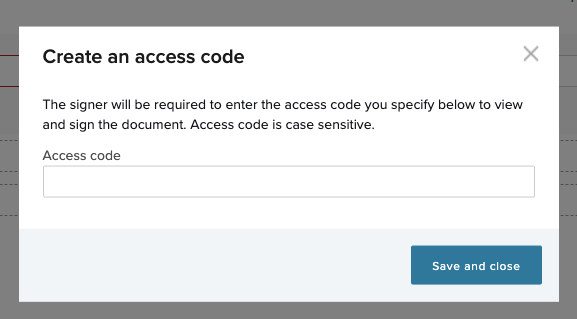 And that's it!
To Enable on Enterprise Plus
Must be an Org Admin to enable for all users. When enabling the Org admin can choose if this setting can be set by members, team admins/managers or only Org admins.
Navigate to the Admin Console by hovering over your login email and selecting 'Admin Console'.
Select 'Signature Requests' under the 'Settings' section in the menu on the lefthand side of the screen.
Scroll down to the 'Signature request options' section and click on the toggle to the right to enable.

**Please note this is not available with any embedded workflows or all plans.