If you're an admin on a Standard or Premium plan, you can change the role of team members to add or remove admin permissions.
To add or remove admin power:
Sign in to your admin account.
Click Team in the left sidebar.
Find the team member whose role you'd like to change.
Click the downward arrow next to their email address and select the correct action.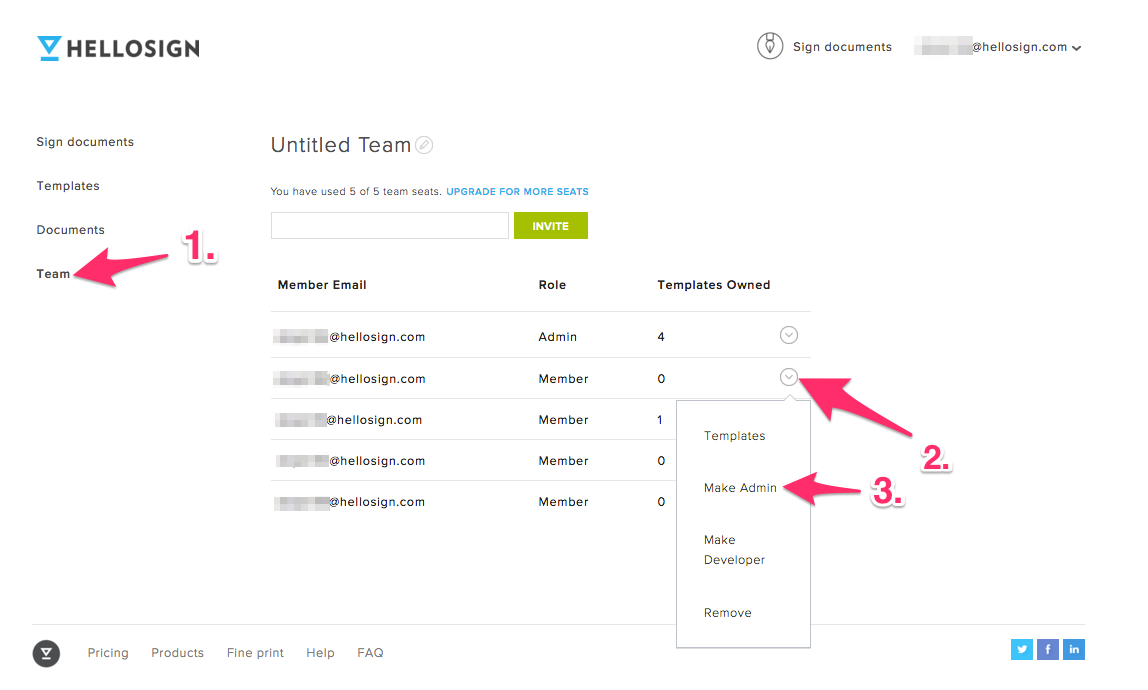 What does each role mean?
Admin
Send and receive signature requests
Manage personal settings
Create API apps that can be used in production
Has an API key that can be used in production
Make API signature requests in production
Manage billing
Manage subscriptions
Invite other team members
Run reports
Lock out users
Reset users' passwords
Remove users
Access all team documents
Access all team templates
Decide which templates to share with other team members, even if they didn't create the template.
Note: Teams can have more than one admin. Remember that all admins have the power to see all team documents, as well as make any changes to team settings.
Team Manager
Send and receive signature requests
Manage personal settings
Can't make API calls (an error message will prevent the call 401 error: Unauthorized API usage.
Ask your team admin to make you a developer on the team page)
Manage billing
Manage subscriptions
Invite other team members
Run reports
Lock out users
Reset users' passwords
Remove users
Developer
Send and receive signature requests
Manage personal settings
Create API apps that can be used in production
Has an API key that can be used in production
Make API signature requests in production
Can't access billing information, update/cancel the team's subscription, or see documents on other team members' accounts
Member
Send and receive signature requests
Manage personal settings
Can't make API calls
Can't access billing information, update/cancel the team's subscription, or see documents on other team members' accounts