If you're an admin of a team with a Business plan, you can change the status of your team members to give them admin power too, or revoke it from them.
To make those modifications to your team:
1. Click on the Team tab on the left side of the page.
2. Find your team member whose status you'd like to change
3. Click on the small downward arrow next to his/her email address and select the appropriate action.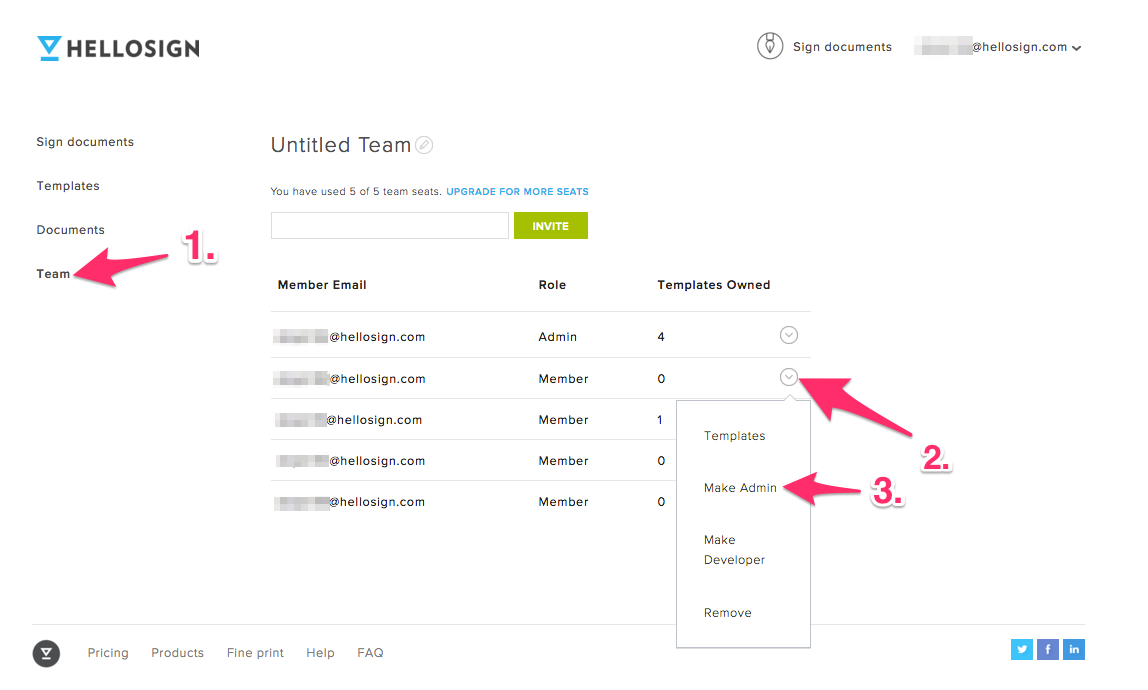 What does each role mean?
Admin
Can Send and Receive Signature Requests
Can manage personal settings
Can create API Apps that can be used in production
Has an API Key that can be used in production
Can make API Signature Requests in production
Manage billing
Manage subscriptions
Invite other team members
Run reports
Lockout users
Reset users passwords
Remove users
Access all team documents
Access all team templates
Administrators also have the ability to choose which templates to share with other team members, even if they didn't create the template.
Note: you can have more than one team admin. Please keep in mind that all admins have the power to see all team documents, as well as make any changes to the Team settings.

Team Manager (if you're on an Enterprise hellosign.com plan)
Can Send and Receive Signature Requests
Can manage personal settings
Cannot make API Calls, an error message will prevent the call 401 error: Unauthorized API usage. Ask your team admin to make you a developer on the Team page.
Manage billing
Manage subscriptions
Invite other team members
Run reports
Lockout users
Reset users passwords
Remove users

Developer
Can Send and Receive Signature Requests
Can manage personal settings
Can create API Apps that can be used in production
Has an API Key that can be used in production
Can make API Signature Requests in production
They cannot access billing information, nor do they have the ability to update/cancel the team's subscription, or see documents on other team members accounts

Member
Can Send and Receive Signature Requests
Can manage personal settings
Cannot make API Calls
Members cannot access billing information, nor do they have the ability to update/cancel the team's subscription, or see documents on other team members accounts