Conditional logic lets users add an "if this, then that" flow to their signature requests. With conditional logic, requesters can personalize their signers' experiences.
Conditional logic is available on Premium plans.
How to use conditional logic on documents
There two groups of fields you'll work with when using conditional logic:
Trigger fields: The fields that, when completed by the signer, will either show or hide additional fields. Rules are applied to trigger fields to determine the action for selected fields.
Fields that can be used as trigger fields include:
Textbox
Checkbox (not grouped)
Dropdown
Radio button
Selected fields: The fields that will be displayed or hidden based on the rule applied to trigger fields.
Fields that can be used as selected fields include:
Textbox
Checkbox
Checkbox group
Signature
Initial
Date
Dropdown
Radio button
How to create a rule
When preparing a signature request, place all the fields involved in the conditional logic rule on the document (both the trigger fields and selected fields).
To create a rule:
Place both trigger fields and selected fields on the document.
Click the desired trigger field.
Under Conditional Logic in the right sidebar, click Create Rule.
The editor menu on the right-hand side will display, If the following is true.... Follow the prompts to set a rule for the trigger field.
For example, if the trigger field is a checkbox, you can choose whether the checkbox is checked or not checked.
For a textbox, you'll be prompted to enter the text that will need to be entered to satisfy the rule.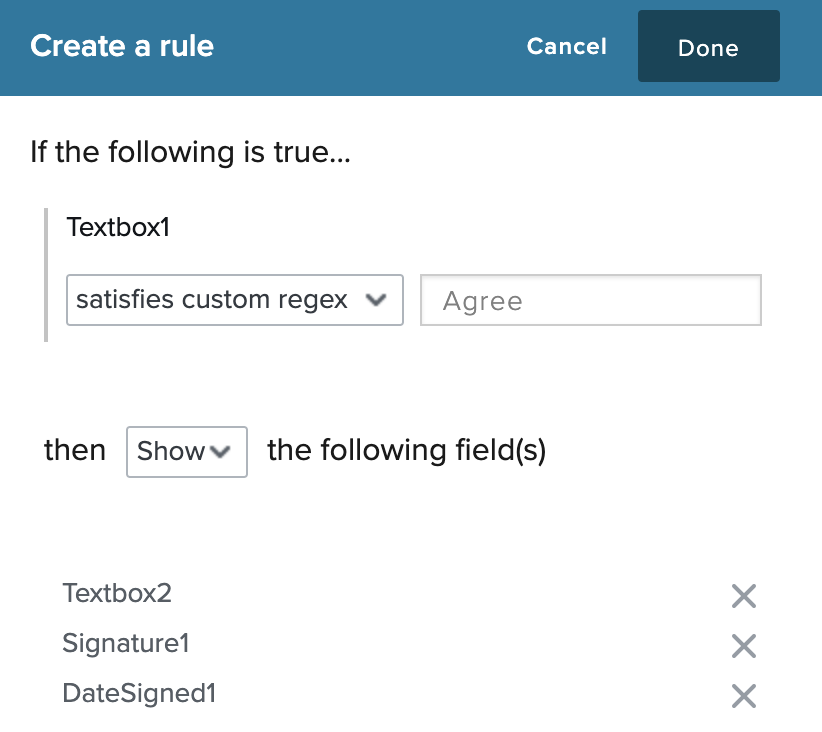 After creating the rule of If the following is true, you can decide whether to show or hide selected fields. To choose the fields to show or hide, drag and drop the desired fields from the document to the editor menu.

Review the rule to ensure everything is correct, then click Done in the upper-right corner.
When the signer completes a trigger field with a rule applied to it, the selected fields will either appear or be removed, depending on how the signer completed the trigger field.
Things to note
Conditional logic can only be set up for one trigger field, not a combination of fields. For example, you can't specify IF checkbox = checked and textbox = "cat", then show these selected fields.
Conditional logic, both triggered and selected fields, must be limited to a specific signer. You can't set up a trigger field that, when complete by one signer, triggers fields for another signer.
A field can act as a trigger field for multiple conditions. However, a field can only act as a selected field once.