Once you've activated the HubSpot integration on your HelloSign account, updates regarding document signing, requesting, and pending signature requests will sync into your HubSpot account.
If you would like to see how to send a signature request through HubSpot, please visit our article https://faq.hellosign.com/hc/en-us/articles/360031386091-How-to-Send-a-Signature-Request-w-the-HubSpot-Integration.
Organizing your contacts list using HelloSign Notifications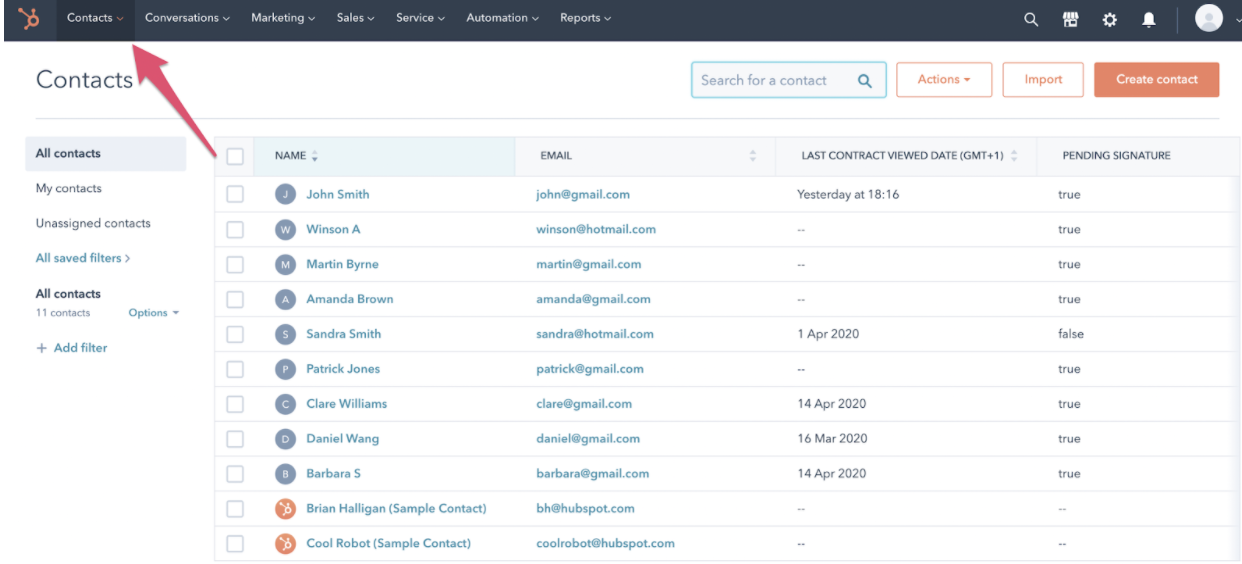 Log in to your HubSpot account and select the "Contacts" link from the top menu bar.
You will see a list of your existing contacts:
To organize contacts according to HelloSign notifications (pending signatures, date viewing contract, etc.), click on "Actions", and select "Edit columns" from the dropdown menu.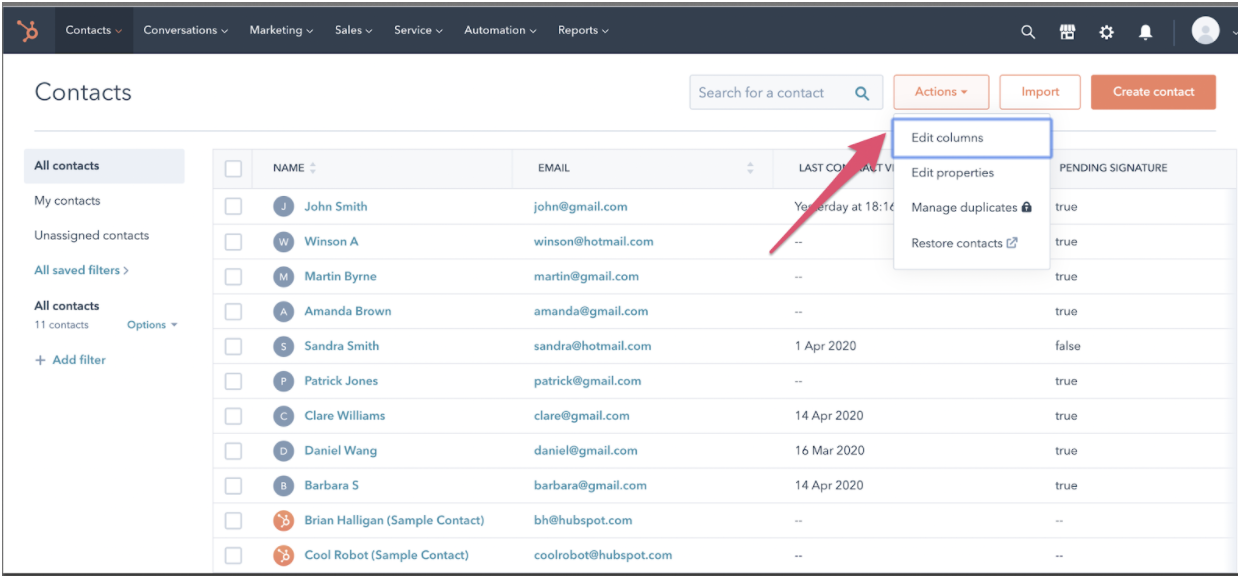 This will launch a popup menu featuring your existing columns. It will also feature additional column categories.
Scroll down until you see the "HelloSign" column list and add the columns of your preference (such as last signed date, viewed date, and pending signature) as shown on the screenshot below, or type and search for each column.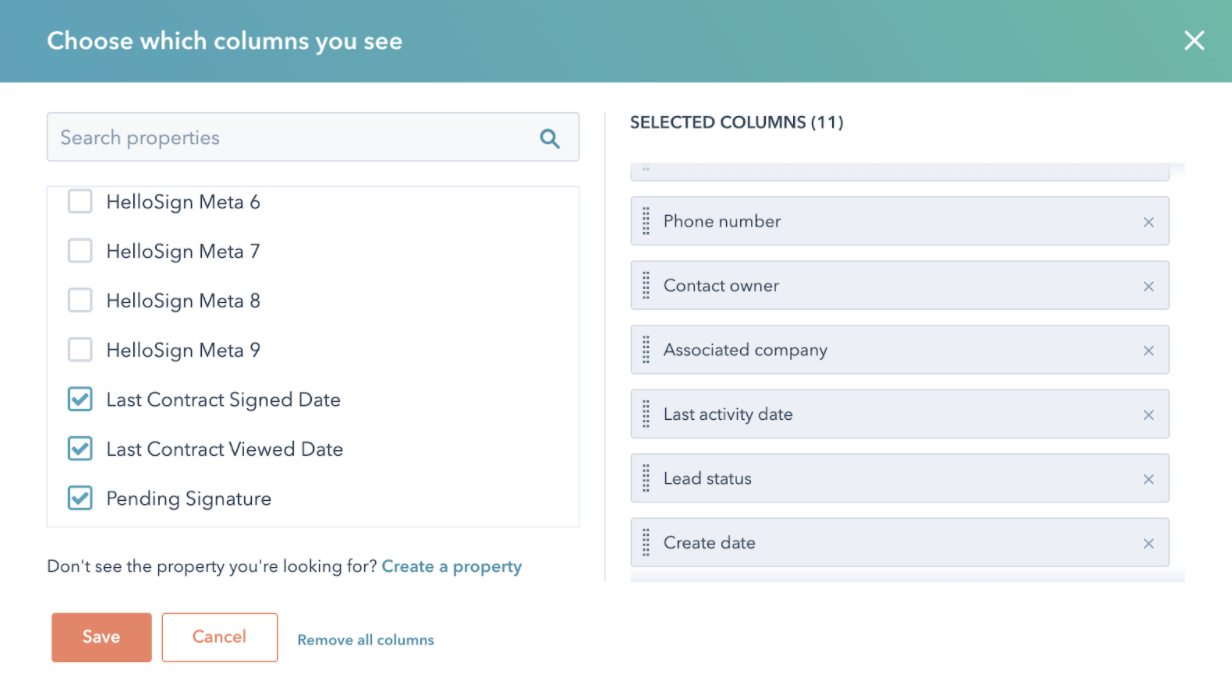 Creating these new HelloSign Information columns will allow you to organize your contacts list based on HelloSign information. Column management empowers HubSpot users to filter their stored contact info according to a contact's position in a specific paperwork workflow.
Displaying HelloSign notifications on your HubSpot feed
You can also view signature requests updates and notifications on an individual contact's feed.
To do so, simply select an individual contact's email address from your list of contacts.
You'll be taken to the contact's activity timeline. The timeline is where you view updates on a contact's activity and track notable activity.
To add HelloSign notification updates to a contact's timeline, select the option to "Filter activity".

You'll see a list of filter options and HelloSign is unselected by default. You'll need to select the HelloSign checkbox in order to see HelloSign notifications in your timeline.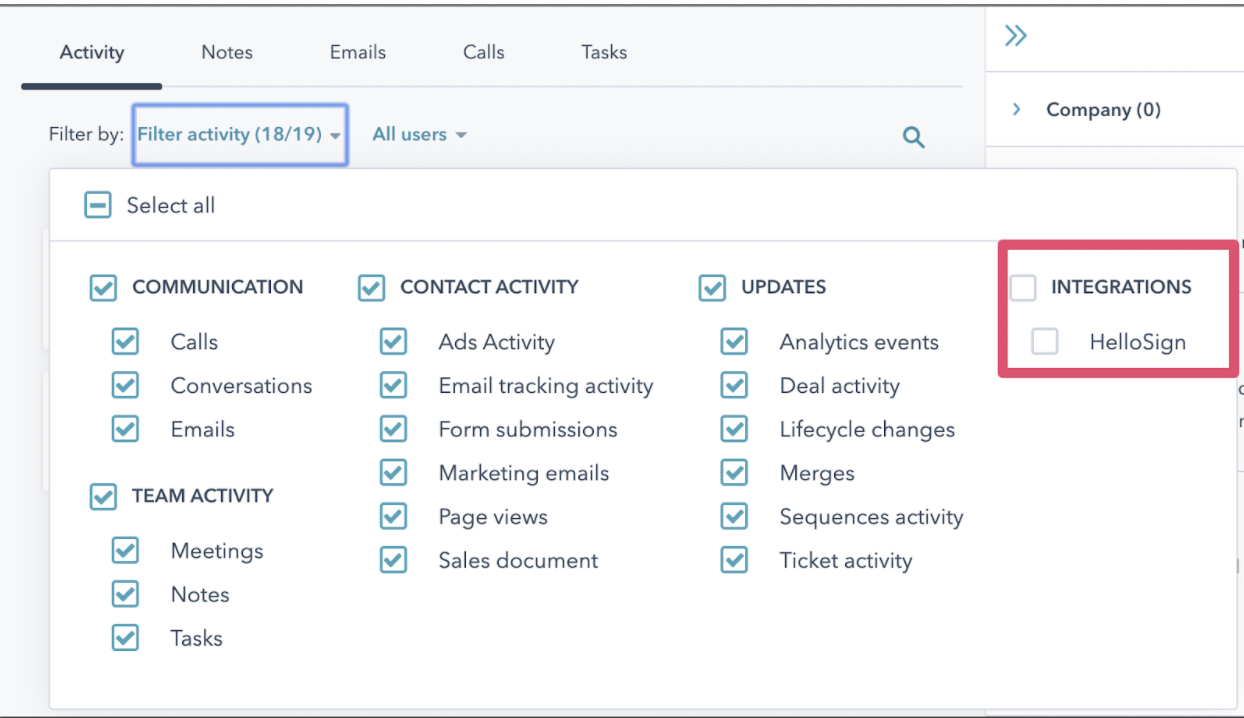 You will see a notification under that contact activity timeline when a document is signed: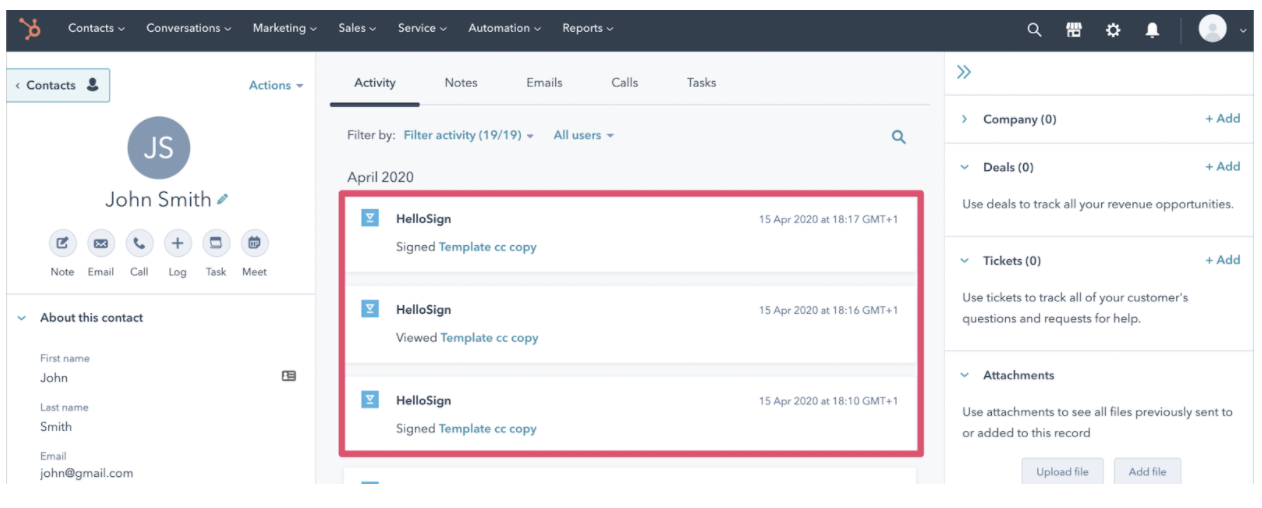 The link will direct you back to app.hellosign.com to access your documents on our website.
To remove the HelloSign Information notifications (or filter other information), deselect the appropriate checkbox.
NOTE: Completed HelloSign documents are not attached directly to HubSpot, When a signature is completed, you will find a link on the notification that will direct you back to app.hellosign.com to access your documents within our site.